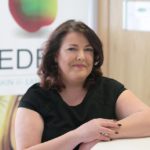 "I had a wonderful Hydrafacial treatment at Eden Skin & Laser Clinic. My skin was positively glowing, my skin feels amazing, my pores appear more defined and there was no downtime at all"
What is Hydrafacial?
HydraFacial is a salon favorite here at Smooth Beauty. Our team of HydraFacialists is recognized as one of the top in the country, bringing you the best of everything HydraFacial has to offer. We are qualified MD facialists bringing you Deluxe and Platinum treatments.
''It's like profhilo on steroids!'' A hydra facial is not a typical facial, there are no creams applied. A Hydrafacial is essentially a really deep cleanse of the skin using mechanical and chemical exfoliation.
The mechanical is the vortex handpiece and the chemical, is the acids that are pushed deep into the pores using the handpiece/vortex fusion technology. Typically applying these potent acids to the skin would cause irritation and feel uncomfortable, but the Hydra fusion technology, delivers potent anti-aging serums, hyaluronic acid for hydration, and soothing agents to prevent this.
Uncover a new layer of skin with gentle exfoliation and relaxing resurfacing.
Remove debris from pores with painless suction. Nourish with intense moisturizers that quench skin.
Saturate the skin's surface with antioxidants and peptides to maximize your glow.
WHAT SETS HYDRAFACIAL APART FROM OTHER FACIALS?
HydraFacial uses a unique, patented Vortex-Fusion delivery system to exfoliate, extract and hydrate skin, and, the spiral design delivers painless extractions.
WHAT IS VORTEX-FUSION TECHNOLOGY?
The spiral design of HydroPeel® Tips, used in conjunction with the HydraFacial proprietary vacuum technology and serums, creates a vortex effect to easily dislodge and remove impurities while simultaneously delivering hydrating skin solutions. The results for your skin is a really deep clean, reduction of congestion and improved skin texture letting your skin reveal an amazing glow, with absolutely none of the downtime and skin shedding you would associate with other facials.It is the facial preferred by many celebrities for this very reason, infact J.Lo has partnered with hydra facial and developed her very own booster for that infamous glow.
WHO IS IT RECOMMENDED FOR?
Recommended for all skin types. Oily, conjected and even the most sensitive skin easily tolerates the hydrafacial treatment.
As with most facials, the results are cumulative, many clients report seeing visible skin refinement and an even radiant skin tone after just one treatment. The smoothness and hydration may last five to seven days or even longer.
We recommend one treatment per month to improve the appearance of fine lines, wrinkles, and brown spots.
HYDRAFACIAL LIP PERK
This is an add-on specifically for the lips. It exfoliates, hydrates and plumps lips . It enhances the appearance of dry damaged skin by reducing flaking and restoring suppleness. It helps to restore volume and re-plump the lips ,and it helps increase hydration and provide anti antioxidant properties.
HYDRAFACIAL EYE PERK
This is an add-on specifically for the eye area to give a refreshed and renewed look. It contains oat kernel to help with anti-aging and skin smoothing properties. It improves skin smoothness,clarity , overall brightness and hydration. It helps with inflammation and puffiness and boosts skin hydration.