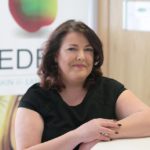 "Not as scary as you think – Samantha Jones has a lot to answer for!
My favourites are Image Signature Face Lift, Dermaceutic Milk Peel & AlumierMD Radiant 30. Combined with prep and recommended home care the results are amazing"
What are Skin Peels?
Here at Eden Skin & Laser Clinic our peels come in different strengths ranging from light glycolics, salycilic, lactic and citric, which are used when the client needs to be presentable the very next day, to stronger 20% TCA , that give greater results more quickly but in return require slightly more down time. Our Product ranges include Image MD, Alumier MD, SkinCeuticals, Ultraceuticals, Dermaceutic. Each peel has concentrated ingredients to target a specific concern.
Removing damaged superficial layers of skin improves the appearance of wrinkles and fine lines, texture and tone of the skin, hydration, reduces pore size, clears blemishes, balances oil production and promotes the growth of healthy new skin cells.
Which one is for me?
During your free consultation your practioner will discuss with you your skin concerns and decide on which peel is most suitable for your skin.we use a wide variety of different peels allowing us to tailor the peel preparation to specifically target your unique needs.
NOTE: You are not a candidate for a chemical peel if you are pregnant, breastfeeding, or have been on Accutane within the last six months. A comprehensive questionnaire must be filled out and consultation performed prior any peel during which any allergies you may have, such as to Aspirin, any skin conditions or medications should be discussed with your nurse.
How do I prepare for my peel?
Preparation and aftercare products will be discussed at your consultation as they can benefit and maintain your results. Please discontinue the use of Retin-A, or other retinoids and Alpha Hydroxy Acids for one week prior. It is required that you wear sunscreen daily and use the appropriate home care topical products recommended by your practitioner.
What does a skin peel feel like?
Most skin  peels range from a warm sensation on the skin, to tingling, stinging or burning. We have a fan handy for our clients to keep them comfortable throughout the process, and once the acid or enzyme is removed, this sensation gradually subsides.
How much will I peel? 
This is where our friend Samantha Jones comes in, not every peel ends with a red raw face & having to leave the clinic with a veil on. How much you peel depends on many factors such as the specific acids being applied and their strength, as well as the overall condition of your skin. We cannot guarantee how much a person will peel or whether a particular skin condition will be resolved following a specific number of peels. Peeling is different for everyone and some will only experience light flaking, while others may peel more than once. In addition, the skin may not always visibly peel. Two to three treatments may be required for this to occur.
What to Expect from your Skin Peel
#edenskinstories
"This is a Dermaceutic Cosmo Forte TCA Peel one of my favourites. It must not be carried out at home and has to be done by a Doctor or Nurse. Peeling is up to 7 days, I found days 3-5 the worst. 7 days later I have some slight peeling on my jawline. This is not a sore peel (Im a big baby!) my skin felt odd and tight, I had some tenderness as new skin underneath was showing. It is so important to wear your SPF 30-50 post treatment as new skin is very vunerable and needs protection even more so. This is a much more intense peel than usual Microdermabrasion with the peel going deeper. I would try and have this peel twice a year, its RRP in France is €2500 we charge €500. I find my skin brighter, softer and not as red". 
Good morning!
Day 2 post peel…skin is starting to itch a little so peeling will be soon…meanwhile I shall keep applying K Ceutic SPF and look like an extra from Benidorm. Have a great day friends!!
The camera is not doing this peel justice because believe me I have truly moved into shedding mode and there's more to come. Days 3-5 generally the "worst" days but can already see some fresh baby skin beneath…yaay!
Day 5 and shedding is still happening. Keep all the questions coming and I'll answer all in one post. Skin a lot less tight and can feel beautiful soft skin underneath.?
Day 8 and the results are fabulous! The effects of this peel combined with prescribed home care and skin supplements can be seen up to 3 months as collagen and elastin production has been deeply stimulated.