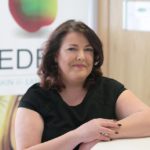 Another first for Eden! We were one of the first clinics in Ireland to introduce LED photofacials – its a dream add on to amplify a skin needling or Dermaplaning treatment.
Enquire
Single 20 minute Treatment €50
Deluxe Dermalux €90
Course of 3 €135
Course of 12 €480
Post Treatment €40
Call 090 6625 904 to book an appointment
What is Dermalux?
LED Phototherapy is based on the principle that living cells are able to absorb and are influenced by light and the treatment has long been recognised for its regenerating and anti-inflammatory properties.
Skin Rejuvenation
Rosacea
Acne
Repair Post Treatment
#edenskinstories
"Had a Dermalux Dermalux LED Treatment. Individual wavelength settings have different targets. I had it to target pigmentation and for skin rejuvenation. Great for acne and rosacea. Look at my skin glow!

?

 

#

nofilter

 

#

nomakeup

 

#

dermalux




#

ledlighttherapy
What happens during the treatment?
Before your Dermalux treatment we will cleanse your face using one of our cleansing products. Making you comfortable in our relaxing laser clinic room Dermalux delivers one of the three types of LED light. Each treatment lasts around 30 minutes and there is no downtime so you will leave the clinic with glowing skin! The benefits of your time under the lights will last even after the treatment is finished.
What does it feel like?
Having a Dermalux treatment is not claustrophobic at all, as it is not a huge scary machine we are dealing with. It feels slightly warm but not hot or uncomfortable. It can be a lovely experience to relax and sit still with lovely scented candles & relaxing music filling the room. Before you leave we will apply a serum and SPF so you leave with glowing nourished skin & feeling fabulous.