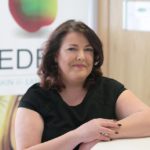 Sclerotherapy 
Best done in Winter months to be truly vein free and show off the pins for the Summer.
What is Sclerotherapy?
At Eden Skin & Laser Clinic sclerotherapy is a treatment performed by a very experienced  medical practitioner who is a member of the British Association of Sclerotherapists.
You will be thoroughly assessed prior to treatment regarding your suitability.
What is Microsclerotherapy?
Microsclerotherapy is a treatment for thread veins and leg veins using very tiny needles. A sclerosant solution is injected very superficially into the ineffective veins. This sclerosant makes the lining of the veins sticky and swollen, the vein wall then sticks together, making that treated vein close up and heal. Immediately after the injections are performed, compression hosiery is applied to ensure that the vein closes up and that gravity pull on the blood flow is encouraged back up the legs in a normal manner.
Does it hurt?
Some people find the procedure a little bit 'nippy' as the tiny superficial injections allow the sclerosant fluid into the vein yet many other patients don't feel a thing! After the treatment you will notice little raised areas which look a bit like insect bites. This is very normal. Once the compression hosiery is removed it is very normal for the treated area to appear bruised and look slightly worse than pre treatment. This is normal.
When will I see an improvement?
It can take up to 10 weeks for the veins to look as they did pre treatment and after approx 16 weeks the veins will start to look much better. Full treatment benefits will be noticed at 12 weeks after the procedure.
What about aftercare?
Full written and verbal aftercare guidelines will be given, and these include taking a brisk 10 min walk straight after the treatment. Thereafter you are encouraged to wear your bespoke compression hosiery for 24 hours (day and night) for two days and thereafter for two weeks during the day only.
We will advise you on the correct compression hosiery has been tailor made to fit your exact needs including colour, style, and thickness of material. You can purchase your hosiery before your treatment from your local pharmacy (Please be aware you will need to be measured and they will be ordered in so give it 2-3 days prior to treatment) ,we recommend Class 2 compression.
The compression hosiery will give a firm support around the ankle area especially. This is important to encourage the blood in you legs to pump effectively back towards you heart and then off to other areas of the body.
Waxing must be avoided for four weeks. High impact exercise should be avoided for two weeks. Do not take very hot baths or showers immediately after your Microsclerotherapy treatment at Eden Skin and Laser Clinic.
Approximately 4 treatment sessions in the first year should be expected. Thereafter a maintenance programme of treatment should be expected to maintain results.
How much does it cost?
Price: Half hour treatment, €150. Full hour treatment, €270.